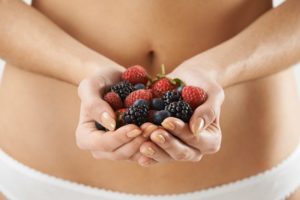 The HCG Diet is an extreme low calorie diet that includes injections of HCG (human chorionic gonadotropin) hormone. HCG is a hormone produced in women while pregnant. The hormone injections allow the body to maintain energy and muscle while the caloric intake is very low. While on the strict dieting phase of this program there are some rules:
Lunch and dinner include one protein and one vegetable (no veggie combinations)
No oils are permitted on this diet so cooking is done by boiling, broiling or poaching
This restrictive phase lasts 25-45 days
Here are the foods permitted during this phase of the program.
Proteins (100 grams pre-cooked weight for lunch and dinner)
Chicken Breast (boneless)
Filet Mignon
White Fish (Wild only, no ahi tuna or salmon)
Albacore Tuna
Lobster
Crab
Shrimp
Scallops
3 egg whites
Vegetables (1 cup per lunch and dinner)
Spinach
Fennel
Chard
Salad greens
Celery
Tomatoes
Cucumbers
Asparagus
Cabbage
Broccoli
Cauliflower
Fruits (2 per day as snacks)
Small apple
½ Grapefruit
Strawberries (1 cup)
Blueberries (1 cup)
Raspberries (1 cup)
Blackberries (1 cup)
Drinks (No sugar in any drink use splenda or stevia to sweeten)
Water (2 liters per day)
Herbal tea
Coffee (no milk)
Green tea
Spices
Basil
Parsley
Rosemary
Cumin
Coriander
Chili powder
Onion powder
Garlic powder
Cayenne
Sea salt
The calorie count per day is 500 calories in this phase. The daily injections of HCG allow this low calorie intake without feeling hungry. HCG injections have to be be prescribed by a doctor. No diet should be started without first consulting with your doctor.
If you would like more information on the HCG Diet, Contact Metro MediSpa at 888-637-7228.