What are MedSpa Mobile Parties?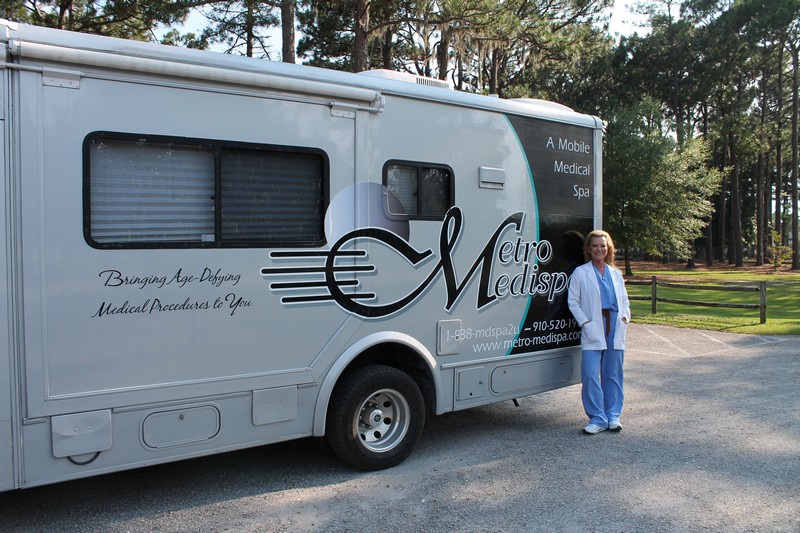 Are you starting to see those wrinkles around your eyes and forehead? Do you have any desire to get rid of them? Are your friends starting to hit that age range as well?
Have you always wondered what anti-aging treatments are out there, but are just too intimidated with doctors' offices? Or maybe you weren't even aware that anti-aging was someting that doctors focus on, and you want to learn more about age management.
Or do you just want some moral support from your friends when going for treatments? Lots of people are only afraid of going alone for treatment, and that's understandable!
Now these treatments can come to you. Metro MediSpa can provide you & your friends a wide range of age-defying treatments in our OSHA-standard, medically-equipped mobile office.
Our Services
The following services can take place during one of these parties. All treatments are administered by a skilled doctor in an OSHA- standard medically-equipped mobile office, everything is completely sanitary and will be comfortable for you:
Botox & Juvederm Injections
Chemical Peels
Teeth Whitening
Information for Hostesses
A minimum of 6* paying friends plus yourself are required for a party. In return, you will receive a generous discount (up to $500 on any services). See our MedSpa Party Menu for a listing of available services and the discounted prices. Hostesses will receive all required paperwork prior to the MedSpa Party for invited guests to complete, we handle as much as we can for you!
All treatments have Special MedSpa Party prices with even bigger discounts when combined with more than one (1) service during the MedSpa Party.
Each guest can receive a FREE consultation for Hormone Replacement Therapy as well, one of our most popular and impactful offerings. The hostesses will receive a generous discount as a thank you for hostessing!
Information for Guests
Some treatments require advance preparation:
Those receiving laser treatments – No sun for 7 days prior to treatment
Those receiving chemical peels – No sun for 7 days after treatment
Most treatments – no aspirin the day of treatment
Pricing
VI Peel $250 per peel per area (orig) -$200 party price
Injectables Botox $12.50/unit (orig) $11.50/unit party price
Juvederm- Liquid facelift for lips & cheeks

1.0 cc is $625 (orig) $575.00/syringe party price
0.55cc is $425 (orig) $375/syringe party price

B12 Shot Fat burner, energize booster $20 per shot (orig) $10 per shot Party price

Teeth Whitening $150.00 (org) $99 party price
Bigger Discounts available when combining different services during the MedSpa Party.
Each guest can receive a FREE consultation for Hormone Replacement Therapy
Frequently Asked Questions about MedSpa Parties
When will I see the results of my Botox injections? It can take 7-10 days to see the final results.
When will I see the results for my Filler injections? Filler injections show immediate results, though you will want to give it at least a day to really see the results.
Will I experience bruising with the injections? It is possible. Although all precautions are taken not to inject into veins, sometimes veins that cannot be seen by the doctor are hit and some bruising results.
Testimonials
"I had my first MedSpa Party about a month ago with Metro MediSpa! It was a great way to have a girls' night and reverse the signs of aging! Connie and Kim were great and provided a comfortable, intimate environment for my friends and me. My friends are already asking when my next party will be." -N Smith
Call 888.637.7228 to book a MedSpa Party today!
*Should there be less than 7 treatments performed, each guest still receives the party price, however, the hostess will not receive the generous discount.