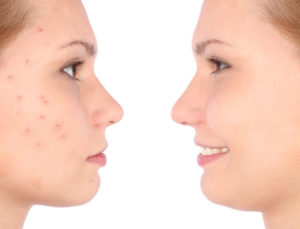 Acne is a skin condition that is prevalent in over 80% of people experiencing adolescence. Majority of the forms of acne commonly cause visible lesions in the active stage. These lesions after healing often leave behind residual scarring and pigmentation. These scars and pigmentation changes may lead to psychosocial issues for the patient. Studies show that acne scarring affects people emotionally resulting in difficulty with interpersonal relationships, studies, work, and social activities. The psychological impact includes lack of self-confidence, social dysfunction, self-consciousness, and dissatisfaction with one's appearance. Acne scarring can be treated with platelet-rich plasma (PRP) and microneedling.
A study conducted by scientists of the Department of Dermatology, Venereology, and Leprosy and the National Institute of Medical Sciences in India found that combining microneedling with autologous PRP to treat acne scars works more efficiently compared to microneedling with distilled water. The study involved 50 patients between ages 17 and 32. Microneedling was administered on both halves of their faces. On the right half of their faces, they were given intradermal injections and topical application of PRP. On the left half, they were administered with intradermal injections with distilled water.
PRP and Microneedling Improve Acne Treatment
The results of the study showed that the acne scarring on the right sides of the faces improved by 62.20% and by 45.84% on the left side on a Goodman's Quantitative scale. Out of the 50 patients, 20 showed excellent response to the treatment on the right side, and 30 showed a good response to it. On the left side, five individuals showed an excellent response, 42 showed a good response and three showed a poor response.
The study concludes that combining microneedling with platelet-rich plasma treatment gives more effective results in treating acne scarring compared to the use of microneedling treatment only. This combined treatment is quick and effective in restoring normality in the lives of acne scarring sufferers.
For more information on platelet-rich plasma and microneedling treatments contact Metro MediSpa at 888-637-7228 or 910-599-9925.