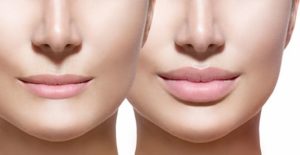 Filler migration is the movement of a dermal filler from the injection site to another part of the body. While fillers can migrate, this is an infrequent occurrence that may be avoided by selecting an experienced provider. With the rise in popularity of face fillers in recent years, there have never been more clinics offering cosmetic injectables; nevertheless, this has resulted in an influx of poorly educated, unprofessional injectors.
Too Much Filler
This problem is common in people who have had lip filler administered by an untrained injector. A large amount of filler can be too much for the lips to handle in a single session. As a result, it can migrate up and out of the top lip, resulting in a filler "mustache" or duck lips. Also, patients receiving too much filler beneath their eyes can develop lumps due to the thin skin in this area.
Sessions Too Close Together
An inexperienced practitioner may not correctly space your filler injections, resulting in portions of the skin being filled too soon or too heavily. An expert provider will spread your filler sessions over a few weeks to allow your skin to absorb the filler and optimize the results.
Too Much Handling
Many online videos suggest rubbing your treatment region just after your injection. However, this might be dangerous. Some providers may advise patients to gently massage the injection areas after treatment to smooth out the fillers beneath the skin; however, too much pressure too quickly may cause the filler to migrate slightly. In addition, after an injection, touching your skin regularly might introduce bacteria into the injection points. The needle entry points heal quickly, but you should avoid touching them until the next day.
How to Prevent the Filler from Migrating
You can do the following steps to guarantee that you get the best benefits from your filler:
Select an experienced provider to do the injections and strictly adhere to their directions.
Do not push on your treated area for a full day following your filler injection unless directed otherwise.
Do not overdo your facial motions; regular facial movements will assist your fillers in settling into position and smoothing out.
Do not exercise on the day of your filler injections.
While filler migration may be perceived as widespread on social media, it is a relatively unusual adverse effect.
Metro MediSpa
Are you thinking of having fillers? Metro MediSpa, a med spa in Wilmington, NC, has the experience you desire. Along with our many satisfied clients, you will be happy to see those wrinkles fade and have a youthful look once again. Contact us today at 888-637-7228 to schedule an appointment.