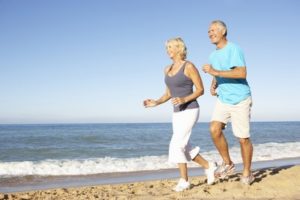 Growing older brings with it many changes in our bodies.  There are ways to counteract many of these changes through lifestyle adjustments like eating healthier, exercising, and meditating.  But some changes may require some medical intervention.  Hormones play an important role in the body and when they are out of balance the body suffers in a variety of ways.
Testosterone is one of those hormones.  It is important in both men and women.  The most noticeable symptom of a low testosterone level is the reduction in sexual desire and function.  For men this could mean fewer spontaneous erections (such as during sleep) or decreased sex drive.  For women it could mean a general disinterest in sex for no apparent reason and increased hot flashes..
Additionally, both men and women can experience fatigue, a reduction in lean muscle mass, insomnia, depression, decreased bone density, loss of hair, trouble concentrating, and short term memory issues.  All of these can be due to low testosterone levels. The first step is to see a doctor and have hormone levels tested. If low testosterone levels are found Hormone Replacement Therapy may be the answer.
Hormone Replacement Therapy is usually thought of as treatment for menopausal women.  And that is true, but more and more men are seeking therapy for low testosterone.  Many men have stated that being on hormone replacement therapy has made them feel younger and more vigorous.
Women have to be a bit more careful when being treated with testosterone.  It is not recommended for postmenopausal  women who are not on estrogen replacement therapy.  A sufficient estrogen level is required for the therapy to be effective without negative side effects.  A serious discussion with a doctor will help determine if testosterone therapy will work to alleviate symptoms.  Studies have shown that women using testosterone therapy showed improvements in mood, sexual function and general well-being over a 12 week period.
Both men and women want to feel vital as they age, so when symptoms start interfering with that vitality be sure to check with a doctor.  Hormone Replacement Therapy may be a solution that will help maintain a healthy, active lifestyle for many years to come.