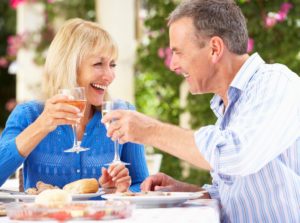 Many people look in the mirror and feel that what they see staring back at them does not reflect how they feel inside.  They often want to turn back the hands of time to when they had more healthy, youthful, and radiant skin. People are so desperate that they are willing to shell out thousands of dollars every year for creams, serums, and procedures to make them look younger. What if there was a way for you to prevent aging before it started or even reverse your body's aging without a surgery or some magic pill?  This secret doesn't come down to some special formula or an experimental procedure. In fact it all comes down to your biology and things that you can do to change the aging process within you. The key to combating aging starts at a molecular level and begins with your telomeres.
When a scientist looks at a telomere under a microscope, they can tell how old that piece of genetic material is by the length of the caps. Shorter telomeres means that the particular cell has a shorter length of life than the usual healthy cells. Every time a cell divides, the resulting cells have shorter telomeres.  If the telomeres become too short, the cell will not divide.  This is a game changing breakthrough that allows professionals to pinpoint how quickly you will age compared to others in your age group. Many of those that work in the health and beauty world are lauding telomeres as a great discovery and as an early warning sign of the condition that your body is in currently. Continued research is needed to know if there are ways to manipulate these telomeres outside of your everyday lifestyle, but this is considered a major breakthrough for the beauty industry nonetheless. Telomeres provide professionals with information that can be used to execute a plan to create longer telomeres and increase the life of your body's cells.
Your telomeres reveal how different factors in your environment affect your body's cells down to your very DNA. The length of your telomeres tell medical professionals your likelihood of premature aging as well as your risk for certain cancers. The longer your telomeres, the longer the lifespan of your cells. Your telomeres are affected by your diet, the amount of activity you participate in, your exposure to the sun, pollutants, and other environmental factors.  Telomeres hold much potential for researchers in order to reverse aging and catching chronic illnesses in the very early stages. Not only can having longer telomeres make you appear younger but it can also make you feel younger as well increasing your mobility, reducing pain, and increased energy.
While it is not possible to halt the aging process altogether, by keeping your telomeres long you can minimize aging including all the unwanted parts of aging including wrinkles, receding hairlines, arthritis, and weakness. While aging is inevitable, by keeping your telomeres longer you can be someone who ages very gracefully and enjoy a full and happy life for many decades to come. Premiere health providers are using telomeres as a means of turning back the hands of time and allowing you to enjoy living life well into your golden years. The science of telomeres seems to be the closest that we have come yet to the fountain of youth.